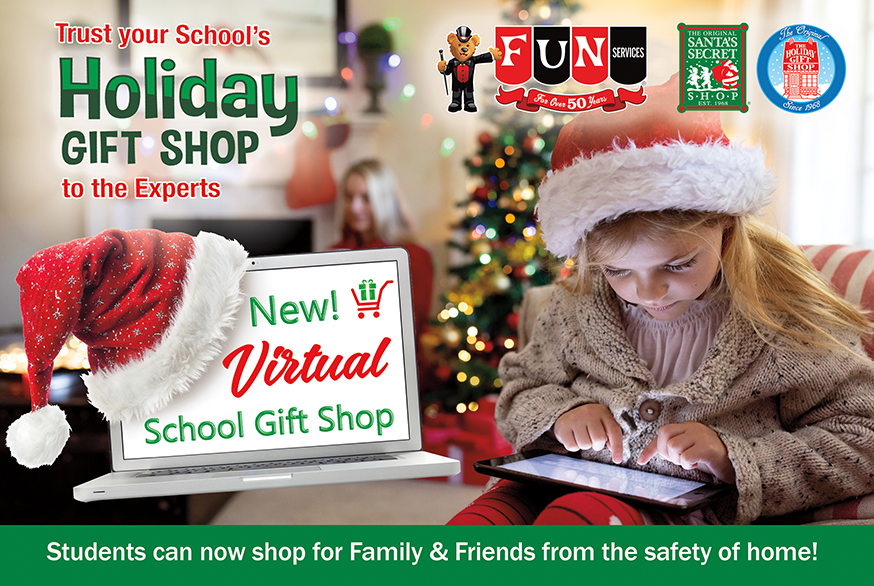 We are excited to now offer 2 ways to Host a Holiday Gift Shop for your school!

Traditional In School Holiday Shop:


The traditional in-school version is usually run by Parent Organizations with volunteers throughout the duration of the shop.
New!

Virtual





Holiday Gift Shop

:
This option provides the flexibility for your School or Parent Organization to run the shop with minimal effort and contact. The virtual option allows students to shop in our online platform from the comfort and safety of home; students can participate whether they are coming to school in person or learning virtually from home! We know each student's education is important, so we are happy to offer this option that does not take away valuable instructional time from the students –once we receive your school's order, we will deliver your merchandise in your choice of 1 of 3 ways:
Packed by student, so all you have to do is distribute the orders by classroom or by parent pickup.
Bulk packed and your organization will pack individual orders.

We are also offering a ship to home option.
Our new system is also cashless, so you don't have to worry about collecting any funds;
parents pay for their student's order directly on our online platform. .

This program makes hosting a Holiday Gift Shop easier than ever – we would love to help your school provide some much needed fun and joy to your students and community this Holiday Season!
If you have any questions about our new program, we'd love to answer them for you!
Please call us at 770-607-8300 Today!
11 Easy Steps to Holiday Fun!



This is a fun kid-friendly program! It has become a tradition at so many schools over the years.
You choose the dates that work best for your school and calendar.
Popular choices are the 1st, 2nd, and 3rd week of December.

You will be doing a "no counting of inventory" program! You don't have to count gift merchandise in or out.

If you are running a gift shop as a service to your students, you may prefer a 0% or 10% profit level. If you would like to earn more money for your school, go with the 20% or 30% profit level.

You can choose a cash register, scanning App or both. Our scanning App does not require Wi-Fi once downloaded and signed in to use.

Your Promotional Supply Box arrives with everything you need to start planning your shop, including…Step by Step Promotional Guide, full color Parent Letters , Money Envelopes, and Posters.
Volunteers will help your shop run smoothly. They are there to help guide the students through choosing the perfect gifts for the special people in their lives.
Fun Services Drivers will hand deliver your merchandise to the classroom of your choice. You will also receive an instructional packet, tablecloths, door banners, scanning & price table labels for each item, cash register, shopping bags to carry gifts home and our shiny mylar self-sealing "To/From" gift bags for each item purchased.
If you run low on certain items or supplies you can can fax, email or call us on our toll free 800# to place a reorder. All reorders will be delivered next morning.
We provide an easy daily sales worksheet for you to fill out that walks you through this process. You can also call us for assistance.

Fun Services will pick up any unsold merchandise, supplies and of course your check for payment! That's it, you're done although we do include a short questionaire if you wouldn't mind sharing your experience with us.
Learn More About The Program
Fun Services In-School Holiday Gift Shops are a no-risk program where you only pay for what you sell. No payment is due until after your sale is finished. There is no inventory to count in or count out, and you can
re-order merchandise daily during your sale!
No Risk – No Hidden Fees - 50 years experience - Gifts Guaranteed
= No Worries!
Free Delivery & Pick Up, Free Daily Re-Orders, Free Promotional Items!